"Working out with Coach Maria at SURGE is no longer a 'class' that I have to drag myself to, but an exciting part of my life that I highly look forward to and something I'll like to keep doing forever."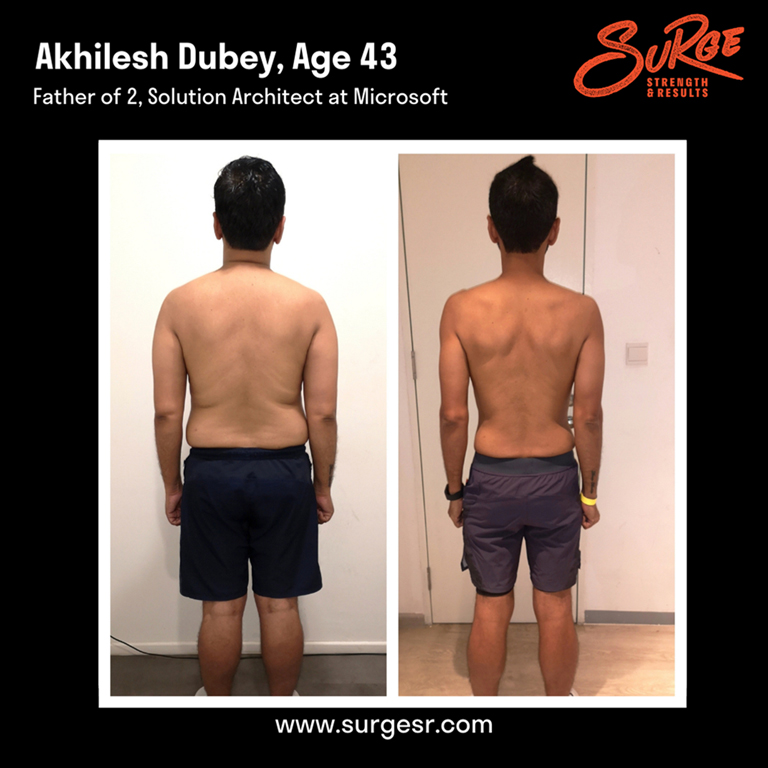 Final stats 10 months
Body Weight : 85,8 kg —> 63 kg (22,8 kg lost)
Body Fat : 31,5% —> 15% (16,4% lost)
Hips: 104,7 cm —> 89,8 cm
Waist: 108,2 cm —> 78.7 cm
Performance
From learning a hip-hinge movement to 70-kg trap-bar deadlift at 8 reps. From body weight squat on to the box to 50-kg barbell back squat at 10 reps.
Goals
– weight loss
– increase body awareness
– postural adjustments (kyphosis)
– strong core and back muscles to manage occasional low back pain
– to be able to run 10 km
Other Information
– a father of two
– Indian vegetarian diet
– stressful work environment
– smoker
My fitness journey started on 13 March 2021, when I took up my very first training session with Coach Maria from SURGE. I was not too sure what to expect, because personal training was something totally new and foreign to me.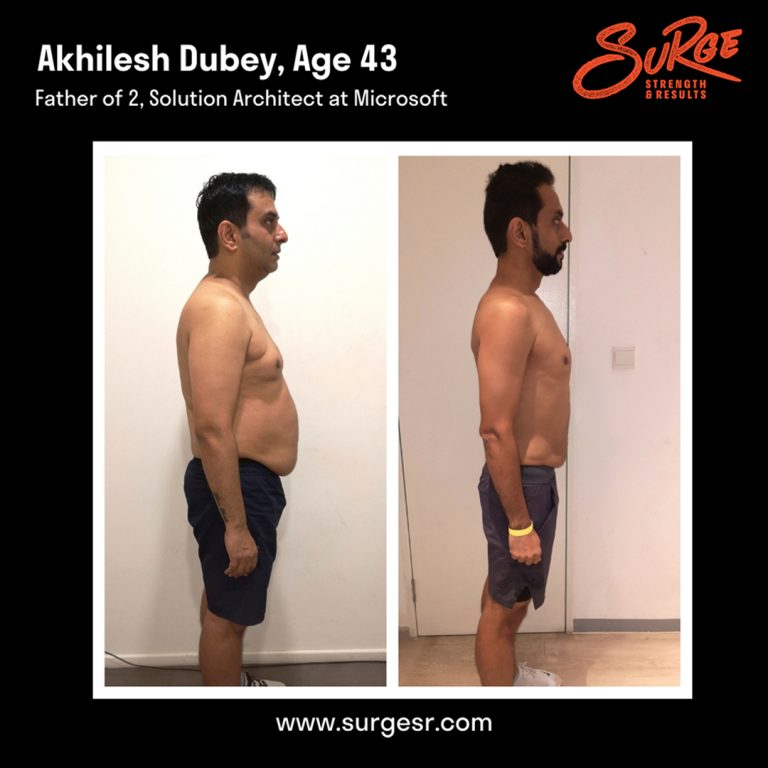 I started out with a body weight of 86.5kg with 31% body fat, and my goal was to drop around 10kg and develop a good and consistent workout habit. With the support and professional guidance that Coach Maria provided, I immediately understood how important it was to incorporate both training and healthy nutrition into my lifestyle in order to reach my goals.
Now my goal is to drop below 10% body fat and maintain a weight of around 61-62kg AND achieve a six-pack. If someone were to tell me I'll be working towards a six-pack one year back, I probably would have laughed it off as a joke!
I'll say that the greatest achievement from my fitness journey is the change in lifestyle. My weekly routine includes a 10-km run at least 5 days a week, along with 2 strength sessions coupled with some abs and posture improving exercises.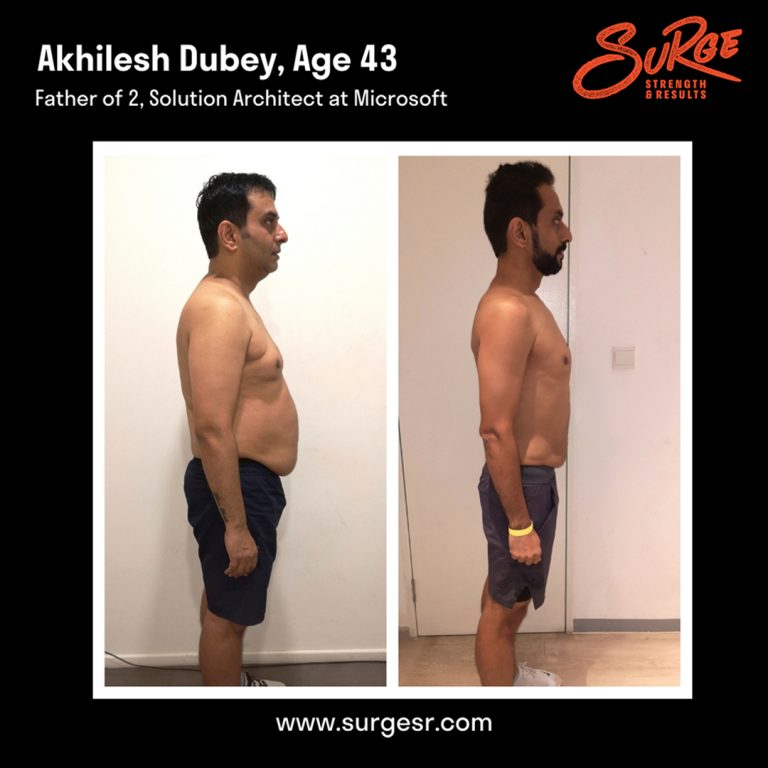 Like many people, my biggest struggle was to manage my nutrition. Being an Indian household, our daily meals tend to be rich and heavy, often comprising of deep fried and processed foods.
Thankfully Coach Maria kept me in check with her close online and offline monitoring, and offered recommendations for my intake and choice of food. This certainly made it easier for me to stick to a healthy diet.
Before SURGE, I've wasted tons of money on commercial gym memberships subscriptions and failed to find anything that worked for me. I was secretly worried that SURGE may end up to be likewise but my experience here was tremendously different. My mindset towards fitness and nutrition was total overhauled and I now have a huge respect for fitness trainers.
My gratitude towards Coach Maria's dedication and support is beyond expression. She not only helped me to push to through my perceived limits in training, she also cares about the lifestyle of her trainees beyond the gym floor: the meals, the sleep, and overall wellbeing.
I truly believe that to succeed in your transformation, one needs to trust the process and let the coach decide what works best for you. Surge coaches are not just professional trainers, they are true "Gurus" who shape your life. So follow the philosophy of leaving yourself in the good hands your Guru and you won't go wrong!